Posted by
James
on September 1st, 2014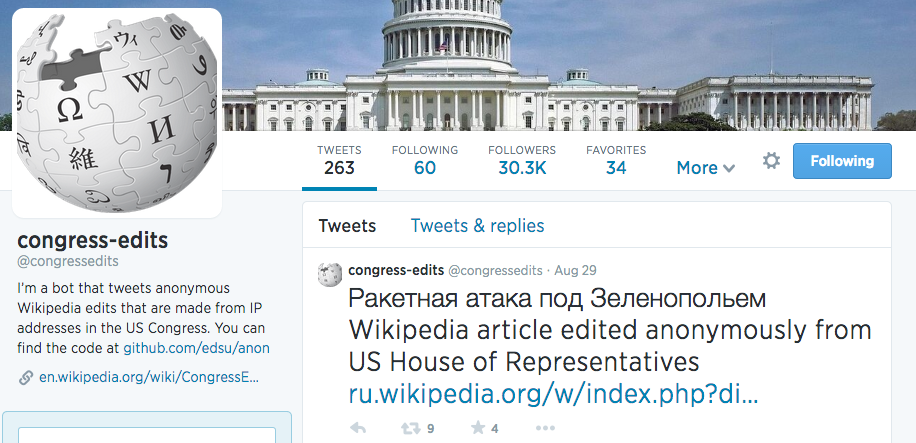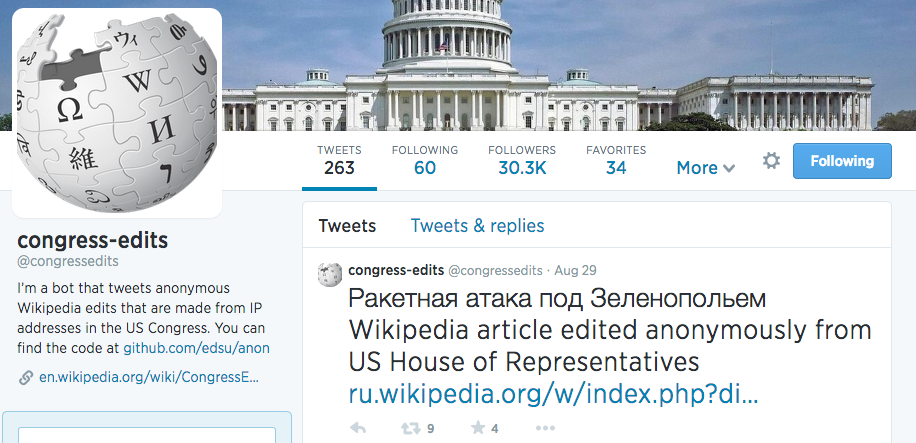 By Peter Meyer and James Hare
This past July, programmer Ed Summers created CongressEdits, a Twitter feed that posts an update every time an edit to Wikipedia is made anonymously from an IP address belonging to the United States Congress. Wikipedians who edit through a registered account have their edits attributed to their username, while those who edit without being logged in have their edits attributed to their IP address. The range of IP addresses used by Congressional offices is public knowledge, and the Twitter bot reports only those where the person posting wasn't logged in. In fact, Wikipedia administrators have been watching out for Congressional edits for years.
CongressEdits provided a new level of visibility to these edits. The Twitter account has around 30,000 followers as of writing; by comparison, the English-language Wikipedia has 1,400 administrators. The visibility and resulting press coverage generated a lot of interest in Wikipedia on the Hill—particularly since some of the edits are disruptive (and sometimes downright hateful). That said, they are mostly the kind of juvenile or disruptive edits that Wikipedia deals with every minute of every day without incident, notable only because of where the edits are coming from. Over the years Wikipedia has developed sophisticated technologies, including filters that prevent certain edits from even happening, that ensure that most trivial vandalism gets swiftly undone.
Most press coverage of CongressEdits has focused on acts of vandalism, and one would think we would want to chase Congressional staff away. In fact, Wikimedia DC welcomes edits by Congressional staff and the staffs of federal government agencies. Government staff are experts in areas of public interest, including very new hot topics. They play a promising role in our mission to make a better online reference work, with notable, neutrally phrased, verifiable content. We can overlook minor discretions and work with Capitol Hill and all federal employees to forge a path forward.
Recently we partnered with the Cato Institute for a panel on editing Wikipedia on Capitol Hill. You can read about it inU.S. News and World Report. Cato and Wikimedia DC both agree that Congress does have a part to play in Wikipedia—not political advocacy, but transparently improving the quality of information about legislation and other Congressional activity. This includes not just direct edits to articles, but making data about government more open and machine-readable for reuse in highly visible third-party platforms like Wikipedia. There is a great potential for Wikipedia as a platform to increase awareness of Congress' activities, a potential we should not overlook.
Best practices for federal employees
Wikimedia DC is interested in developing best practices for employees at all levels of government. The National Archives and Records Administration (NARA) has been working with the Wikipedia community since 2011, pioneering government engagement with Wikipedia and showcasing the potential to serve the public.
If you or your agency are interested in participating as a Wikipedia editor, we recommend these basic best practices:
Register individual accounts. By registering an account, it helps you develop goodwill with the Wikipedia community. Fellow editors get the sense that they are working with another person, not a shadowy figure hiding behind an IP address. However, Wikipedia's policies do not permit the registration of group or company accounts; each account must be used by one person only.
Acknowledge your potential conflicts of interest. The community of volunteers that maintains Wikipedia cares very strongly about potential conflict of interest. To this end, avoid editing articles on your boss or your employer. Additionally, being transparent about your affiliation can help build trust. NARA has a standard format for conflict-of-interest disclaimers, a format which can be freely copied and re-used by others in the federal government.
Look into other agencies' best practices. Some agencies have published best practices on Wikipedia participation, including NARA, the Department of Health and Human Services, and the National Institutes of Health. These are best practices you may wish to incorporate, should you have the opportunity to develop best practices for your own agency. We also recommend reading Why CongressEdits Matters for Your Agency on DigitalGov.
Peter Meyer is the Treasurer of Wikimedia DC and the Chair of Wikimedia DC's Public Policy Committee. James Hare is the President of Wikimedia DC.