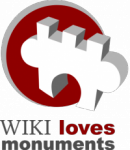 Lasting the whole month of September, Wiki Loves Monuments—USA is part of an international Wiki Loves Monuments
competition that anybody with a camera and internet connection can join in on. Focused on improving the number and quality of photos related to historic monuments and places, the Wikipedia community started a photo contest in 2010 in the Netherlands. The result was 12,500 freely licensed images of monuments that anybody can use for any purpose. In 2011, 18 countries participated in the contest resulting in 5,000 participants submitting more than 165,000 images.
This year, 2012, the contest has come to the US and will focus on sites on the National Register of Historic Places (NRHP) which volunteers have organized on Wikipedia by state and county, including other sites chosen by local Wiki Loves Monuments coordinators.
Every participating country will put together a national contest with partners, rules, events, and winners. Then every national contest will nominate some of their winning pictures for the international contest. An international jury will award extra prizes to the best images from all participating countries. The grand prize this year will be a trip to Hong Kong!
Any participation is welcome: from uploading a single image to spreading the word about the contest, to even becoming
sponsor.
In the Washington, D.C. area we are lucky to have a cornucopia of historic buildings, statues, and towering monuments that are all ripe for the photographing. Take an afternoon, or even just a few seconds walking home from work, to take a picture of an old building or a statue and upload it in September to enter it into the contest. Take a tour with friends or family, or go on a solo hike around town. Participating is super easy. Just check out the already compiled list of historic places on Wikipedia at http://en.wikipedia.org/wiki/List_of_RHPs#Current_listings_by_state_and_territory and choose where you want to go.
On September 8th a group of energetic Wikipedians went forth on a photo scavenger hunt called Wikipedia Takes DC and took a plethora of great photos for Wiki Loves Monuments despite inclement weather in the afternoon!
Throughout September we will be having several uploading/meetup gatherings at the Starbucks on Dupont Circle so feel free to swing by and join the party!
Lisa Marrs, Outreach & Program Coordination, Wikimedia DC