You're coming to DC and you want to know what to visit but you want to stay away from the obvious sites and take the road less traveled by, away from the tourists on their Segways and hawkers at memorabilia stuffed stands. Luckily for you there are dozens of sites like this all over the DC area, here is our arbitrary list of the top 10 in random order.
1) Congressional Cemetery: Located on Capitol Hill in Washington, DC, the Congressional Cemetery is the final material resting place for hundreds of notable names from US history including Congressman Henry Clay, FBI Director J. Edgar Hoover, David Herold, who was convicted and hung for his part in Abraham Lincoln's assassination, and Leonard Matlovich, America's first openly gay serviceman. All of the tombs just mentioned and more now also sport QR codes to their Wikipedia pages so you can conduct your very own tours. Free Admission.
2) The United States National Arboretum: Located in northeast DC about 10 minutes from the Capitol Building. The visitor center is open every day from 8am-4:30pm except December 25, from March 1 to October 31 the Visitor Center is open from 8am-5pm. The Arboretum features everything from lush East Asian gardens to spectacular columns, simulated environments from the Prairie to verdant forest. There are self guided tours and private and public tours available. Free Admission.
3) Kenilworth Park & Aquatic Gardens: Located in northeast DC, just south of Route 50, Blatimore-Washington Parkway, Kenilworth Avenue intersection the park is open daily from 7am-4pm except Thanksgiving, Christmas, and New Year. Preserving some of the original 4,000 + yera old wetland from before the time when European immigrants came and began destroying it, Kenilworth Park boasts both man-made and natural ponds and marsh. Popular in the summer are the flowers that bloom in the artificial ponds although the flourishing summer vegetation springing up from the marsh and tidal wetlands along the Anacostia River is also worth the time to walk, bike, or canoe by. Free Admission.
4) The Monastery of Mount St. Sepulchre: Located in University Heights, a 14 minute walk from the Brookland-Cua Metro station, this monastery boasts not only of grand halls, but also of breath taking architecture and sumptuous gardens with gorgeous statuary. It's open Monday through Friday from 9am-5pm, Sunday from 8am-5pm and Saturday from 9am-6pm. Free Admission.
5) Civil War to Civil Rights: Downtown Heritage Trail: Located in Washington's Downtown, just east of the White House. Composed of 21 poster-sized, illustrated signs that combine storytelling with historic images, the trail follows the footsteps  of Abraham Lincoln, Frederick Douglass, Dr. Martin Luther King Jr., Walt Whitman, and other Americans whose stories twined with the history of the US and its capital city. Those taking the trail are encouraged to follow it at their own pace, checking out the local characters, businesses, and restaurants along the way. Free Admission.
6) National Geographic Museum: Located at 17th and M Streets NW in downtown DC and open from 10am-6pm daily, the National Geographic Museum exhibits change every so often to reflect the richness and diversity of our world. Admission is $8 for adults, $6 for members/military/seniors/students/groups of 25+, $4 for children 5-12 years old.
7) African American Civil War Monument: Located on U Street NW and Vermont Ave NW, the African American Civil War Memorial is a tribute to the United States Colored Troops (USCT) who fought for freedom during the Civil War. There is a sculpture of uniformed soldiers and a sailor with a family behind them situated in the center of a plaza encircled on three sides by the Wall of Honor. This Wall lists the names of the 209,145 USCT drawn from the official records of the Bureau of the USCT National Archives. Free Admission.
8) Tudor Place Historic House and Garden: Located off Wisconsin and 31st Street NW, this Georgetown mansion and National Historic Landmark was once the home of the granddaughter of Martha Washington. Docent-led house tours and self-guided garden tours are available Tuesday through Sunday. The house itself is surrounded by five acres of extensive, verdant gardens. Adults $8, Seniors/Military $6, Students ages 7-18 $3, Garden only with self-guided map/audio tour $3, children 6 and under free.
9) Washington National Cathedral: Located off of Wisconsin Ave NW and Massachusetts Ave NW, the Cathedral is replete with beautiful  architecture and manicured grounds. Visit to learn more about the history of the Cathedral, tours are provided. $10 per person.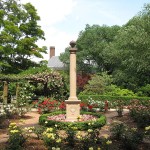 10) Hillwood Museums and Gardens: Located off Tilden Street NW and Lenora Ave NW, the Hillwood Museums and Gardens houses one of the most complete collections of Russian imperial art outside of Russia as well as a distinguished 18th-century French decorative art collection and 25 acres of serene gardensand natural woodlands for anyone to enjoy. It is open for roaming Tuesday to Saturday from 10am-5pm, tours are complimentary. Free Admission although adults are encouraged to donate at least $15.